Ayurveda For Allergic Asthma – A Solution Beyond Inhalers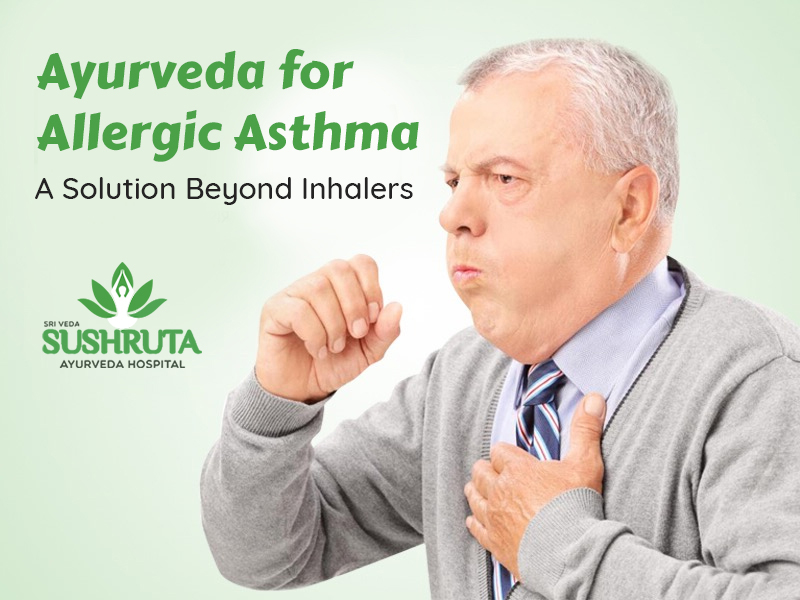 Breathing problem?
Do you feel attacked by breathlessness at times? Well, that could be asthma. A chronic respiratory disease that blocks the airways of the lungs by swelling up. As a result of the passages through which air flows in become narrow, and produce extra mucus. This cause restricted respiration become coughing, wheezing and shortness of breath.
Asthma varies from person to person depending on the causes. Allergic asthma is one of the common types of asthma caused by inhaling the allergens like pollen from trees, grass, and weeds, mold spores. Allergic asthma can also be caused when you inhale dander from the skin, hair, or feathers of animals, and feces of dust mites, and cockroaches, etc.
Ayurvedic Treatment For Allergic Asthma :
In terms of Ayurveda asthma is know as 'Svasa Roga'. According to the ancient Ayurveda, there are five types of asthma ' Maha Svasa', 'Urdhva Svasa', 'Chinna Svasa', 'Tamaka Svasa' and 'Ksudra Svasa'. In Ayurveda treatment varies from person to person and the type of the cause. No two persons are treated similarly in Ayurveda.
Allergic Asthma is called 'Tamaka Swasa' in Ayurveda which is curable. The treatment in Ayurveda is mainly involved in balancing the imbalanced doshas. Ayurveda believes that allergic asthma is due to the imbalance of vital energy forces Pitta and Kapha. So, it is essential to balance the Pitta, and Kapha Doshas by the Panchakarma treatments like Vamanam, Virechanam, etc.
Vamana Karma (medicated emesis) :
Vamana therapy plays a significant role in curing 'Tamak-Swasa' not only symptomatically but also heals from the roots. Allergic asthma is due to the imbalanced Kapha dosha; this Vamana therapy is performed to balance the increased Kapha Dosha. First and foremost Shodhana (purificatory measure) is advised first in Vamana.
Before Vamana therapy, Trikatu Churna, Chitrakadi Vati, Hingwashtaka Churna were given to drink for two to three days. For the next few days, you may go through Snehakarma or Oleation therapy where a preferred type of ghee or oil is given to drink. After this procedure, they provide foods to increase the Kapha at its peaks. On the day before Vamana therapy, Kapha ahara is given to the patient.
On the day of Vamana therapy, milk or sugarcane juice is given. Vamanam is induced with certain drugs like Madanaphala(Randia Dumetorum Lam) and some other medicines etc. The patient is made to wait for some time after taking the milk or sugarcane juice. After that, the patient is asked to vomit. If the bouts are not coming up quickly, he or she should tickle his throat with fingers. If the bouts are not sufficient, the patient is asked to drink boiled water with pepper, Amla, Mustard or rock salt. Vomiting is continued till the expulsion of bile or yellow sticky material coming out of pitta. Coming out of pitta means complete removal of Kapha Dosha.
These Ayurvedic therapies expel toxins out from the body. Ayurveda recommends a healthy, balanced diet, and an active lifestyle to prevent further affecting by the condition.
Virechana Karma (Purgation Therapy) :
Virechana is one of the Panchakarma therapy. Virechana Karma is a medicated purgation therapy. By performing this therapy, Pitta, toxins can be removed from the body and is recommended for allergic asthma.
In this method, the detoxifications of the shareera (whole body) are removed through the rectum. Virechana karma is a medicated purgation therapy to remove Pitta toxins from the body where purgative medicines given to the patient tend to the expulsion of the doshas.
It starts with internal oleation which is termed as Snehpana Karma (Oral intake of Medicated Ghee). With the consumption of medicated ghee orally the digestive power or Agni is evaluated. The dosage of the medicated ghee is increased gradually, and the process is continued for three to seven days. Followed by the oleation therapy full body massage and Swedana (steam bath) is performed for two or three days. Finally, the treatment is followed by Emesis and Samsarjana Karma. The herbs used for Virechana karma are Amaltas, Kutki, Sanya, Kutki, Isabgol, Marodphali, Milk, Trifla, Draksha, Gulkanda, Hareetaki, etc. Virechana therapy cleanses the Pitta and purifies the blood, and as well the gastrointestinal tract is also cleansed. The treatment is more concentrated on the toxins accumulated in the liver and gallbladder. This procedure brings down the vitiated doshas into proper balance and completely cures the disease.
While treating allergic asthma with ayurvedic procedures, we replace conventional medicine with safe and effective natural treatments. We include tested herbs ayurvedic therapies to expel toxins out from the body. Hence, our treatment procedures and medicines are 100% safe. We analyse your body type and provide specific herbs that suit you best. So you have nothing to worry. Although Ayurveda takes a little longer to help but is always a better choice in the long run.
About The Doctor: 
Dr. Mahesh Kumar – BAMS One of the Best Ayurvedic Doctors in Hyderabad and a sought-after doctor in KPHB, Dr S. Mahesh Kumar has an experience of 8 years in this field. Dr S. Mahesh Kumar is one of the most popular doctors at Sri Veda Sushruta Ayurveda Hospital in KPHB, Hyderabad, Karmanghat and Subedari, Warangal. With a BAMS from Rajiv Gandhi University of Health Sciences, Bangalore, India in 2009, he believes in the miracle of natural healing. He is a member of Ayurveda Medical Association of India (AMAI). He takes a keen interest in the fields of Arthritis Management, Hair Loss Treatment, Kerala Massage, Panchakarma and Infant Massage.