Ayurvedic Treatment for Slipped Disc Problem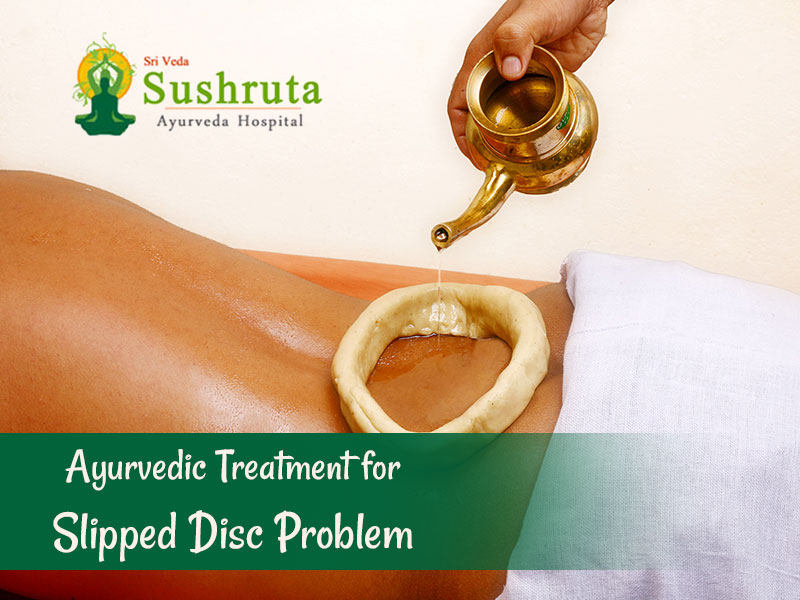 Our spine, also known as the backbone, supports the weight and strength of our body. The bones in the spine are cushioned by 'discs' at their lower end which absorb shocks to protect the spine.
What is a Slipped Disc?
When you experience a severe shock near your spine, caused by a fall, or collision or any other form of trauma, one or some of the discs cushioning the bones can get injured or dislocated. This way, when a 'disc' slips, the condition is called a 'slipped disc'. The discs can even degenerate or 'become old' over time. It is also known as herniated disc.
A slipped disc causes discomfort in the form of pain or difficulty in movement. In the dislocated disc presses over a nerve, the nerve can malfunction too making the result even more complicated.
How Can Ayurveda Help In Curing Slipped Disc?
At Susrusha Ayurveda, we offer a collection of treatments called Meeru vajreekaranam. Meeru means 'spine' and vajreekaranam means 'strength'. Hence, as the name suggests, these treatments aim at strengthening your spine. It includes various ayurvedic procedures and therapies that aim at repositioning the slipped disc and regain the strength of your spine. Here are some of the treatments:
Kati Vasti: This is a well-known ayurvedic procedure which is used to cure lower back pain. It is helpful in curing fracture, dislocation, degeneration and tumours.
In Kati Vasti, the patient lies straight on his chest. Using flour, a small four-sided enclosure is made over his waist. A customised oil is heated to lukewarm temperature and is poured into the enclosure. This oil is kept stagnant over the area for nearly 5 minutes. The oil is then removed, reheated and poured into the same place. This continues for almost half an hour. After that, the excess oil is removed and the area is massaged with the remaining oil.
This treatment increases the blood circulation in the area. Swelling and pain goes down while the oil nourishes the nerve and bones.This prompts it to heal early.
Elakizhi: In this treatment, a wide variety of natural ingredients including leaves, fruit & flower extracts, oil etc. which have good ayurvedic qualities are tossed together inside a piece of cloth which is then warmed up. This warm bolus is then pressed over your waist. The bolus is reheated whenever required. This process continues for approximately 45 minutes.
Lepanam: This treatment includes a paste of various ingredients which would be beneficial to your waist. The type of ingredients used depend on what kind of problem you have.
The paste is spreaded over your waist. The ingredients used should typically help in reducing pain and swelling and increase blood circulation. It is also useful for the health of your skin. Frequency and duration of use depends on the specific conditions of the patient.
Navara Kizhi: Navara is a special kind if rice which is cultivated in 60 days. Navara Kizhi is a bolus of Navara, mild and medicated herbs. This bolus is applied to your waist for half and hour, followed by rest or relaxation. This treatment helps in revitalising your nerves and also your brain. Thus, it reduces stress. It also relaxes and strengthens the muscle.
Meru Vasti: Meru Vasti is an very old and highly preferred way of dealing with back pain. This form of treatment is also practised by midwives in many houses. (Although, we do not encourage any unauthorised form of treatment).
Acute pain related to a slipped disc can be treated by this method. It includes oil massage in the affected area. Usually, warm herbal oil is used for the massage over a period of upto 90 minutes. The masseuse must make sure that the patient is properly rested before starting the treatment.
For this treatment, a 2 hour fasting is required and it must be followed by a long period of rest.
Depending upon your condition, you may require one or a set of these procedures.  The total time required for the treatment will depend on the severity of your condition. In general, you can expect a treatment time of 2 to 6 weeks.
Ayurvedic treatment will give you a very natural remedy which is as good as any other forms of western medicine but without the toxic effects of chemicals.