Rejuvenation Treatment In Ayurveda: An Overview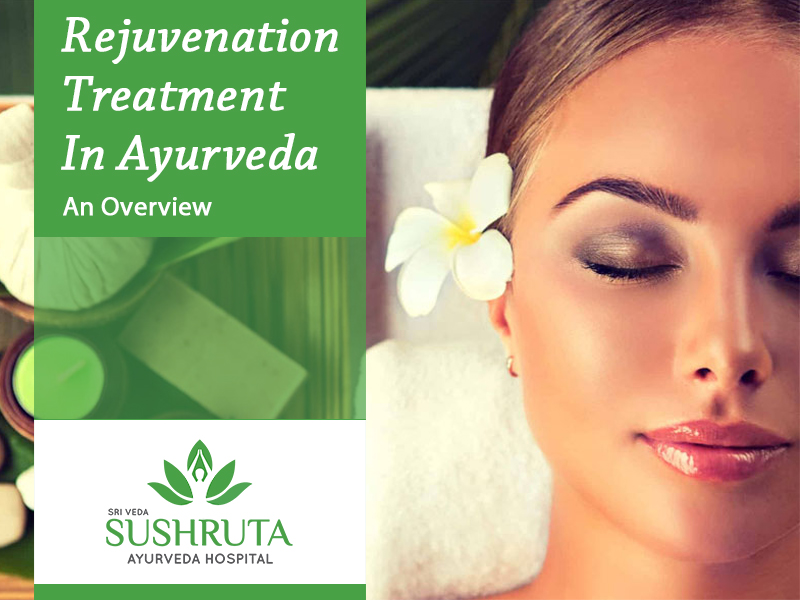 We live in a robotic age where everything is either automated. Our life has become hectic with unavoidable digital influences. As a result, we work hard to relax after working for a living. Little do we realize that it adversely impacts personal lives and more importantly, it disturbs mental tranquillity. So, to find ways to revitalize, and reconnect with health and oneself, here we have 'Ayurveda'; a therapeutic system of ancient Indian medicine to help rejuvenate wholesomely. Let's read further to know how it can benefit us.
Ayurveda involves an array of treatment techniques using marma therapy, Panchakarma, massages and much more. These Ayurveda procedures flush out the toxins in the body and help in the proper functioning of body, mind, and soul.
Rejuvenation therapy is one of best treatment procedure in Ayurveda, and it is done by "Panchakarma" and "Rasayana Chikitsa", popular treatments that improve and enhance the quality of life.
Rejuvenation Therapy:
Ancient Ayurveda Gurus have explored the hidden secrets of rejuvenating the body and mind for the benefit of mankind. Rejuvenation is a process where the whole body is massaged with medicated oils. These therapies are popular in terms of refilling positive energy in your body and mind.
Apart from an internal relaxation, rejuvenation therapies are also well known for its anti-aging treatments and invoke a sense of wellbeing. Rejuvenation not only helps in giving you younger look but also helps you live young.
As Ayurveda considers any defects in the human body which is due to the vitiation(imbalance) of the principle doshas like Vata, Pitta And Kapha doshas. Vata is one of the principle doshas, and it is responsible for movement and functionalities of the body. Kapha is another principle dosha, and it is responsible for body fluids and lubrication. When these principle doshas are corrupted lot toxic wastes will be accumulated in your body.
So, the Ayurveda treatments mainly concentrate on bringing back the imbalanced doshas into an equilibrium state. The famous massaging procedures used in the rejuvenation therapy are Abhyanga, Udwarthana, Njavarakizhi, Pizhichil which helps in boosting all body parts.
Benefits Of Rejuvenation Therapy:
The unique panchakarma treatments remove these toxic wastes and maintain your body in an equilibrium state.
Rasayana Chikitsa is one of the specialized treatment in Ayurveda, and it contains various methods of rejuvenation. Rasayana Chikitsta in rejuvenation process helps to de-stress & re-energize from inside out.
The word Rasayana is a two word Sanskrit term and has a clear explanation that 'Rasa' means the essence of something. 'Ayana' means 'pathways' in the body through which the Rasa is transported. Usually, Rasayana therapies are performed after removing the toxic wastes from the body to get the best results.
The theme of the therapy is to improve physical, mental and moral qualities.
Rasayana therapy includes all kinds of head and face massage with medicated oils and creams. It also includes medicated Steam Bath (Sweda Karma), body massage with herbal oil or powder and administration of internal rejuvenative medicines.
The tissue cells under the skin are lipid soluble, and they can absorb the medicated oils and creams used in the massage process. These cells are re-energized with this therapy. So, with the rejuvenation therapy, the enzymes in the tissue cells have their normal functioning condition.
With the head and face massage the tranquillity of the mind is promoted and the nerves as well.
Massage is a healing therapy and has been practiced for centuries in which muscles and other soft tissues of the body are controlled to improve health conditions.
The massage process in the rejuvenation helps in relieving muscle tension, reducing stress, and evokes mental peace and it particularly influences the activity of the musculoskeletal, circulatory, lymphatic, and nervous systems.
Rasayana chikitsa also builds natural resistance against infection and increases immunity to prevent autoimmune disorders. It also helps to strengthen your memory and intelligence as well.
Some important Herbs and medicinal plants in the Rasayana chikitsa are Emblica Officinalis (Amla), Terminalia Chebula (Harad), Tinospora Cordifolia (Guduchi), ashwagandha (Withania Somnifera), Nagbala (Grewia Hirsuta), etc.
Rejuvenation therapy is 100% natural treatment as we follow the ancient medical scriptures. So, right away, Have an Appointment and walk into Sri Veda Sushrutha Ayurveda Hospital and rejuvenate your body to get a healthy life and a happy soul.
About The Doctor: 
Dr. Mahesh Kumar – BAMS One of the Best Ayurvedic Doctors in Hyderabad and a sought-after doctor in KPHB, Dr S. Mahesh Kumar has an experience of 8 years in this field. Dr S. Mahesh Kumar is one of the most popular doctors at Sri Veda Sushruta Ayurveda Hospital in KPHB, Hyderabad, Karmanghat and Subedari, Warangal. With a BAMS from Rajiv Gandhi University of Health Sciences, Bangalore, India in 2009, he believes in the miracle of natural healing. He is a member of Ayurveda Medical Association of India (AMAI). He takes a keen interest in the fields of Arthritis Management, Hair Loss Treatment, Kerala Massage, Panchakarma and Infant Massage.