How Ayurveda Is Beneficial In Treating Spine Disorders?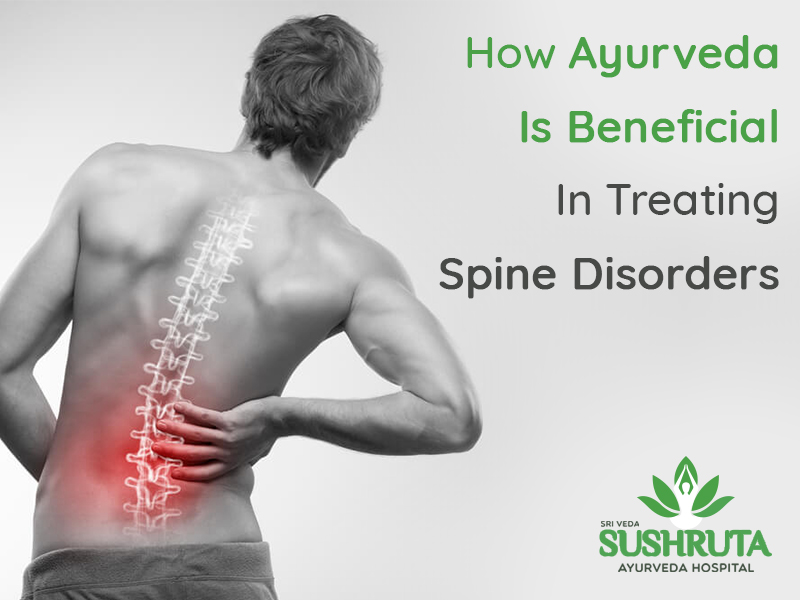 The spine is one of those parts of the human body that is responsible for a fit posture. Imagine yourself without a backbone. How would you sit or stand? Well, it's difficult to even think of not having it. Isn't it? Or perhaps none of us is designed to think that way. But, when there's a spine disorder, an injury etc., the pain and discomfort are as good as not having a spine.
So, do you have a spine condition that has been clinically diagnosed? If yes, are you looking for a solution? If you are looking for a back pain treatment, we have it ready for you. Ayurveda has one of the most effective solutions for spine problems.
So, here we shall briefly understand the function of the spine, how Ayurveda can be beneficial in treating spine disorders.  Read on…
Human back is a complex structure of muscles, ligaments, and bone structures called vertebrae. They work together and support the body movement. However, sometimes there can be certain unfortunate circumstances where the spine disc may start degenerating. This is usually seen in cases of arthritis or if an individual develops an infection or inflammation of the spine. Some of these problems can change the structure of the spine or can damage the vertebrae and their surrounding tissue. Here we have a list of problems that cause spine disorders.
Spine Disorders: How It Causes?
The spinal cord is the major part of the central nervous system. Spine disorder or spinal disease refers to the impairment of the backbone which leads to severe back pain and many other problems in your daily routine. So, coming to these spine disorders, they are of many folds. It may cause due to accidents, degenerative disorders, injuries, infections, tumours, medical conditions, bone changes come with age etc. They are the most complex disorders encountered in medical practice.
As age increases degeneration of the spine is common. The degenerative conditions such as lumbar and herniated disc diseases and rheumatoid arthritis, Spondylolisthesis, spinal cord and vertebral tumours, Sciatica, trauma and infections etc, are spinal cord disorders. Some other conditions causing spinal disorders include Myelopathy, Radiculopathy, Scoliosis, Osteoporosis etc.
But, we do have some good news too! Traditional and conventional medicine both are on par with each other today and have treatments readily available. In the same way, Ayurveda also provides many treatments with low risk and minimally invasive to treat spine disorders.
Let's See The Benefits Of Ayurveda In Treating Spine Disorders :
Spinal diseases can be cured by the ancient treating procedures Meru Vajreekaranam. According to Ayurveda spinal diseases are caused due to the imbalance of the Vata, Pitta and Kapha Doshas. Mostly spinal disorders need surgeries, for better movement. Whereas in Ayurveda, spinal diseases are treated without any surgical intervention.
Panchakarma treatments like Svedana, Vasti, Kati Vasti, Meru Chikista, Lepan, Agnikarma are followed in Ayurveda to treat spinal diseases. These treatments eliminate toxins accumulated in your body effectively and give you a healthy body and a healthy life.
Ayurveda believes that restoring the imbalanced Vata, Pitta and Kapha doshas can relive from the spinal disorders. So, these Panchakarma Treatments help in restoring the vitiated doshas and maintain the harmony of the body.
Ayurveda is an Indian traditional treatment which is safe and works effectively for all age group of people which helps in proper functioning of body, mind, and soul.
As Ayurveda is 100% natural, it will not cause any unwanted side effects or any other discomfort in the body. The herbs and medicines used in the treatment are also prepared naturally.
The strength of Ayurveda in treating the spine area is appreciated globally, as it addresses the root cause of the spinal disorders and helps in curing permanently without any surgical process.
Vasti is very important panchakarma treatment in Ayurveda for curing spinal disease permanently. This treatment is mainly concentrated in eliminating all kinds of Vata doshas from the body.
Kati Vasti is a famous ayurvedic procedure which helps in treating back pain, lower back pain caused due to spinal diseases. This procedure helps in treating spinal disorders due to fractures, dislocation, degeneration, and tumours etc.
Meru Chikitsa which is an ancient Ayurveda procedure. 'Meru' means 'Spine' and 'Chikitsa' means 'Treatment'. It helps in treating most of the disc problems where you need to go for a surgery normally. Ayurveda is a cost-effective procedure and prevents the need for the surgery for your spinal disorders. It is clinically proven that Ayurveda delivers the best results as it is the natural healing mechanism of the body.
So, if you find any of the symptoms of spinal cord disorders like back pain, stiffness or pressure in the back or neck area, not able to move legs and arms, Heavy pain in lower limbs or buttocks etc. So don't be a victim of spinal diseases, Contact Our Ayurvedic Expert at Sri Veda Sushrutha Ayurveda Hospital immediately and get the best Ayurveda treatment.
 

About The Doctor: 
Dr. Mahesh Kumar – BAMS One of the Best Ayurvedic Doctors in Hyderabad and a sought-after doctor in KPHB, Dr S. Mahesh Kumar has an experience of 8 years in this field. Dr S. Mahesh Kumar is one of the most popular doctors at Sri Veda Sushruta Ayurveda Hospital in KPHB, Hyderabad, Karmanghat and Subedari, Warangal. With a BAMS from Rajiv Gandhi University of Health Sciences, Bangalore, India in 2009, he believes in the miracle of natural healing. He is a member of Ayurveda Medical Association of India (AMAI). He takes a keen interest in the fields of Arthritis Management, Hair Loss Treatment, Kerala Massage, Panchakarma and Infant Massage.